Student Section Fundraiser Page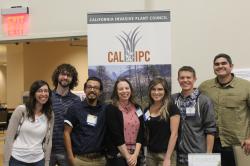 Your gift to the Cal-IPC Student Section helps students and early career professionals in the land management community learn and grow as presenters at our annual Symposium.
We help expand opportunities for students interested in invasive plant research and management through: Travel Awards to the annual Cal-IPC Symposium (when it meets in person); Student/Early Career Panel sessions; and the annual Student Paper and Poster Contest, which recognizes the top presenters with an honorarium.
Support the future of land management with a gift to the Student Section. Use the blue "Donate" button to the right to get started.
ABOUT 2021 Spring Campaign
Happy 30-Year Anniversary, Cal-IPC community! Thanks to our collective efforts over the years, we've served thousands of colleagues in land management through education, science-based tools, and advocacy. With your help, Cal-IPC has advocated successfully to bring back the Weed Management Area (WMA) program, maintained the Inventory of Invasive Plants in California, and moved the needle on Justice, Equity, Diversity, and Inclusion in the conservation field. We have catalyzed important on-the-ground projects across the state. Of course, none of this would be possible without our generous donors!
These have been challenging times for us all – but with your support, Cal-IPC continues this important work. We see the light at the end of the tunnel as more of us receive vaccines against COVID-19 and get back out in the field to steward the land. We are all passionate about taking care of California's environment for the future. Your support is vital to keeping the work going.
Please consider donating to our 2021 Spring Campaign so we can keep our programs strong. Your support helps us grow and expand Cal-IPC's services to the land management community, including advocating for continued funding for weed management projects and keeping the Inventory updated and relevant.
Thank you for being part of the Cal-IPC community!
Supporters
Name
Date
Amount
Comments
Tanya J Meyer
05/10/2021
$100.00
The Cal-IPC student section is awesome. Thank you for your great work!
Marla A Knight
05/06/2021
$103.30
I'm routing for the next generation of weed managers! Go Team!
Gina Darin
04/28/2021
$26.06
Thank you, Cal-IPC Student Section, for your participation!
Anonymous Friend
04/28/2021
$1.00
Lets go student section!
Erin Questad
04/28/2021
$50.00
Great job calipc students!
Anonymous Friend
04/27/2021
$5.46
Anonymous Friend
04/23/2021
$1.00
Anonymous Friend
04/22/2021
$5.00
Loralee Larios
04/22/2021
$40.00
Keep up the great work!
Total
$331.82